Crux Untamed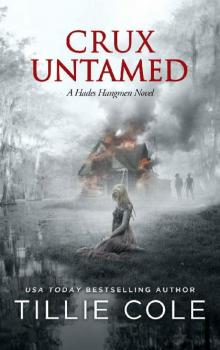 by Tillie Cole
Genre: Romance
Published: 2018
View: 1228
Read Online
Read Crux Untamed Storyline:
ONLY BOUNDLESS LOVE CAN SILENCE THE WHISPERS OF THE PAST . . .
A broken woman.
A damaged man.
A free spirit intent on saving them both.
Elysia 'Sia' Willis lives a solitary life. The only person in it is her big brother, Ky, vice-president of the infamous Hades Hangmen. She loves him, but she has absolutely no love for the outlaw MC he belongs to.
Raised in secret by her mother, Sia grew up separated from her brother and distant father. No one knew she even existed.
After the tragic murder of her mother, Sia spiraled into a rebellion against the rules of the Hangmen. A rebellion with dire consequences that now, years later, she still can't escape.
As she lives once again in secret, happy on her own at her secluded ranch, a devil from her past comes calling. A devil who wants to possess her once again and take her from the simple life she never wants to lose.
And he will stop at nothing to collect what he believes is his: her.
Valan 'Hush' Durand and Aubin 'Cowboy' Breaux have finally found a home in the mother chapter of the Hangmen. The notoriously private Cajun twosome have, for now, put aside what chased them from their beloved Louisiana. But as threats toward the club build, Hush and Cowboy are given a task—protect Elysia Willis at all costs. Cowboy welcomes the job of watching over the blond-haired, blue-eyed beauty.
Hush fights against it.
Scarred by events from his past and a secret that plagues his everyday life, Hush refuses to let anyone else get close. Only Cowboy knows the real him. Until a certain sister of the club's VP begins to slowly knock down his defenses, shattering the heavily built walls that guard his damaged soul . . . with his best friend leading the charge.
As lost and open hearts begin to meld, taking each other from indescribable pain to the never-before felt relief of peace, the newly-mended threesome must first endure one more rocky path.
Only then will they finally shake free of the shackles of their pasts.
Only then will they shed the bonds that have for too long held their happiness captive.
And there is only one way to survive that path . . . together.
Dark Contemporary MFM Romance. Contains scenes of violence and sexual situations. Over 18's only.
Pages of Crux Untamed :