If I Didn't Care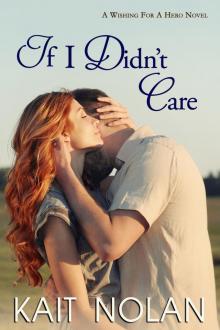 by Kait Nolan
Genre: Romance
Published: 2016
View: 859
Read Online
Read If I Didn't Care Storyline:
He has one mission
Since they were children, career cop Judd Hamilton has built his life around taking care of his best friend, Autumn Buchanan. While he might once have dreamed of a different future for them, everything changed the day her father tried to kill them both. Determined to keep her safe, Judd put his feelings aside and turned his focus to protecting her, always.
She leads a double life
Nobody in their small town would ever dream that Autumn, Wishful's friendly librarian, is really successful erotic romantic suspense author, Rumor Fairchild. No one knows that the swoon-worthy hero of her series is based on her best friend, Judd. He's been fulfilling her rescue fantasies for years, and now she's ready to catapult them out of the friend zone to make her real life romance come true.
Their nightmare returns
But when the past comes full circle and Autumn's father returns to Wishful, even the power of Judd's badge isn't enough to keep her safe from the madman. If he wants the chance at a future with the one girl he's always loved, Judd may have to toss everything he's worked for aside to do the one job that matters.
Pages of If I Didn't Care :